2018 Shopper Contact Program - Frequently Asked Questions
Q. Why is Hyundai continuing to promote this program?
A. Hyundai wants to ensure that every lead is responded to within seconds, 24/7. The Hyundai shopper is likely to have 3-4 brands on their consideration list and the first brand to respond has the highest chances of selling the vehicle.
Dealers using this program have seen their close rates increase an average of 2 percentage points!
Q. How does it work?
A. Your leads are sent into your CRM system "real-time" just like they are today. At the same time, the lead is translated by Calldrip technology into a phone call to your dealership. The Caller ID will say Calldrip or (801) 877- 1122, and when your dealership answers the phone and presses "1," the prospect information is electronically shared and after the whisper is complete the technology dials the shopper just like a regular outbound call. If nobody at the dealership responds, the lead will be routed to a Concierge Agent for handling. Leads delivered during dealership "off hours," or without a phone number will be automatically routed to a Concierge Agent for immediate handling. Watch this introductory video for more information: https://www.calldrip.com/shopper-contact-program
Q. We don't want to confuse our customers with multiple contacts from Concierge and the dealership. How do we avoid overlap?
A. The program is designed to avoid multiple contacts. When the dealership answers and connects with the shopper the dealership owns the complete follow up process, (even if the shopper doesn't answer). Concierge becomes a back up only if the dealership does not respond, or if the lead doesn't have a working phone number. In this case all correspondence between the shopper and Agent are shared real time with the dealership via email. Agents always ask the shopper if they have talked with someone at the dealership. Dealers are also able to log into the Calldrip dashboard to view lead status at anytime.
Q. Can we utilize the Concierge service only during "off hours"?
A. Yes, we can set up the concierge portion for off hours only. This way Concierge will only handle leads during the hours you specify. Send an email to info@trilogysmartleads.com include the dealer code and hours by day of the week you want service for.
Q. We use a "round-robin" process that is assigned by our CRM. Can this work?
A. In order to engage the customer and stop the shopping process the customer must be responded to within seconds. A round robin does not allow the dealership the best advantage in engaging the customer. However, if you want to prevent lead assignment outside of your CRM process you can enter one person and phone number in the form and if that phone answers you can advise the shopper who their representative is and transfer the call or have the shopper called back. If nobody answers it will be routed to Concierge so instant contact is made.
Q. Are all my New Vehicle Leads handled?
A. Yes, all New Vehicle Hyundai leads (OEM, Dealer Website, Trilogy SmartLeads and any direct Third Party sources you elect to include) are handled as part of the monthly subscription fee.
Q. How do I access the Calldrip Dashboard?
A. Go directly to: https://calldrip.colynk.com or click on the link on the Trilogy portal
Q. What is my username and passcode for Calldrip Dashboard?
A. Contact Calldrip at 628-220-0006 or email: accounts@calldrip.com
Q. How do I make changes in our call set up?
A. Go into the "Agents" tab in the Calldrip Dashboard and add the sales personnel and hours they are working by day of the week to ensure your connection rates are optimized.

Q. How do I make changes to the concierge contact emails or our appointment hours?
A. Contact Trilogy at 855-550-0085 or Conciergemgmt@smartleads.trilogy.com
Q. How will subvention be calculated?
A. The monthly subvention will be based on prior month's connection rate as tracked in the CallDrip Dashboard.

Q. Where can I find my prior month's connection rate?
A. Go into "Activity" tab , enter prior month as date range and connection rate is provided.


Q. How was the monthly subscription pricing established?
A. It is based on actual new vehicle lead volume July – Dec 2017.
Q. How do I find out what my subscription fee is?
A. Contact Trilogy at 855-550-0085 or info@trilogysmartleads.com or contact your DSM
Q. How will I be charged?
A. The total amount of your monthly subscription less any subvention will be billed to your Parts Statement
Q. How do I enroll if I have not already signed up?
A. Go to the online enrollment form: www.trilogysmartleads.com/shoppercontact
Q. How do I cancel?
A. Contact Trilogy at 855-550-0085 or info@trilogysmartleads.com. Cancellations on or before the 15th of the month will be cancelled by the end of
Q. How can I see how this program has performed at my dealership?
A. Find reports in Trilogy portal.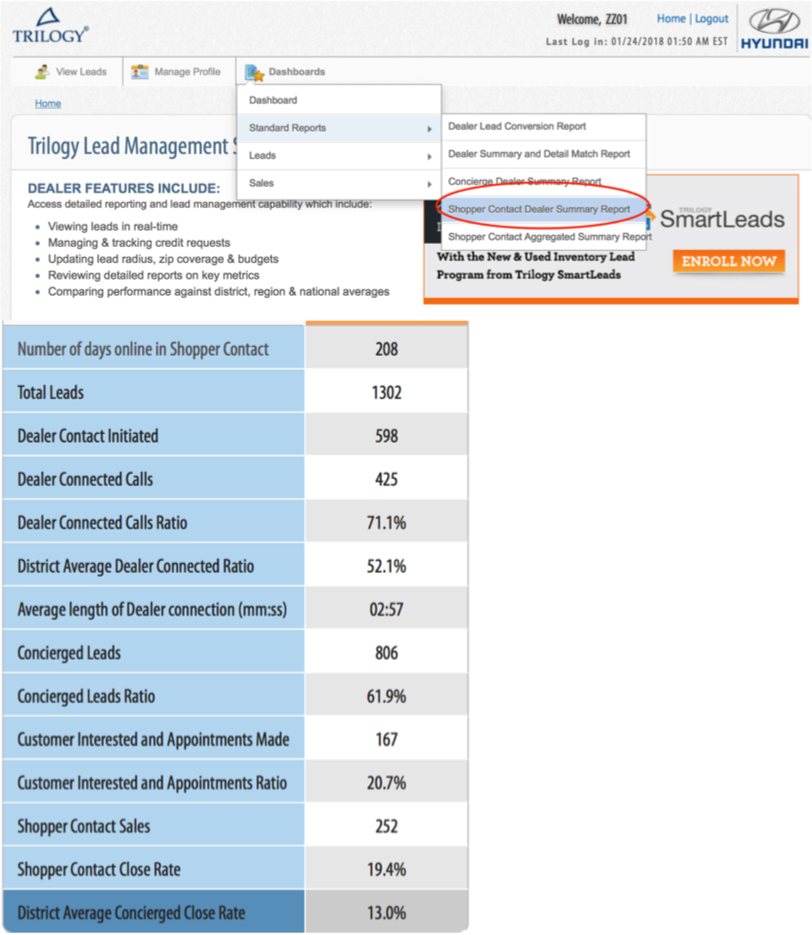 No results found